In 2020, the COVID-19 pandemic has caused major changes in customer behavior. This trend is not expected to stop after the end of COVID-19 but will become a new milestone for the frontier of the e-commerce industry. Here are four behavioral patterns that every e-commerce entrepreneur, old and new, should consider changing in 2021.
1. Video marketing takes the main stage
E-commerce marketing used to revolve around only text and copywriting, then it gradually shifted the focus to images. Currently, video marketing is taking center stage as a primary means of on-site marketing for e-commerce businesses.
This has always been how product reviews and onsite marketing have been done, and in 2021 we could see it going mainstream. Creating the perfect on-site experience is critical to the success of e-commerce businesses and a key determinant of final sales.
Product videos are comprehensive in nature without feeling superfluous or tedious. They bring the storytelling to life while providing a complete view of the product in action while answering all of the customer's questions. When done right, Product Video is a combination of Marketing, Reviews, and Answers to Frequently Asked Questions (FAQs).
The statistics are now leaning heavily towards video marketing, making it impossible to ignore it when you want to conquer the e-commerce market.
– People are 4 times more likely to watch a product video than read a product description
– 73% of consumers are more likely to buy a product after watching a video on how to use it.
Bounce rate drops dramatically on sites with product videos, with a 340% increase in average visitor time
According to 52% of shoppers, watching product videos gives consumers more confidence in their purchasing decisions.
These numbers reveal a clear truth, Video Marketing will define e-commerce this decade and possibly beyond.
2. Voice commerce has become a force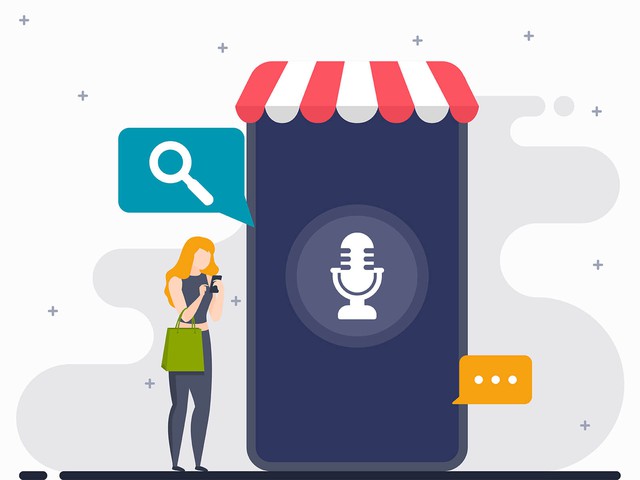 The increased use of voice-enabled devices such as Google Assistant, Siri, and Alexa has become a prominent feature in many people's lives. Over the past 3 years, we've seen reliance on these systems spread to product searches and even purchases. This trend is becoming more and more popular, largely due to the increase in efficiency and accuracy of this technology.
As a result, e-commerce businesses with websites optimized for voice search will have an increasing number of visitors to their conversion funnel.
E-commerce businesses should start creating content that increases the probability of appearing in voice searches and should start offering voice-based in-app and on-site navigation. This way, you'll get a slice of the massive $40 billion ecommerce pie starting in 2021.
3. Shopping and commerce on social networks become the mainstay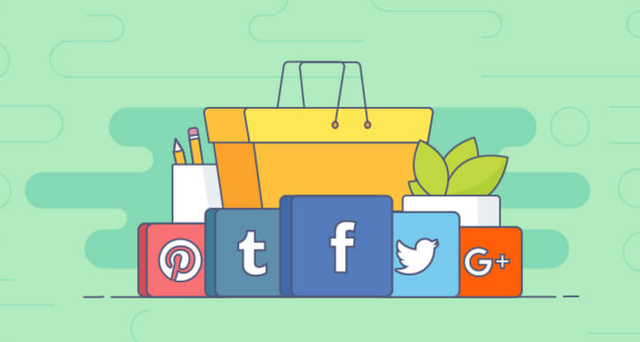 87% of ecommerce shoppers believe social media helps them make purchasing decisions. This trend is driven by a rapid increase in mobile usage and shopping, with 73% of all e-commerce sales predicted to be made on mobile devices by the end of 2021. .
In 2019, Instagram launched e-commerce payments. This wasn't immediately popular but has slowly become popular with overtime marketers.
Facebook, Pinterest, and even Tiktok have caught on to this trend and are now starting to integrate or popularize their in-app purchasing capabilities so customers can purchase items without leaving the social networking app. festival.
4. The rise of AR (augmented reality) in e-commerce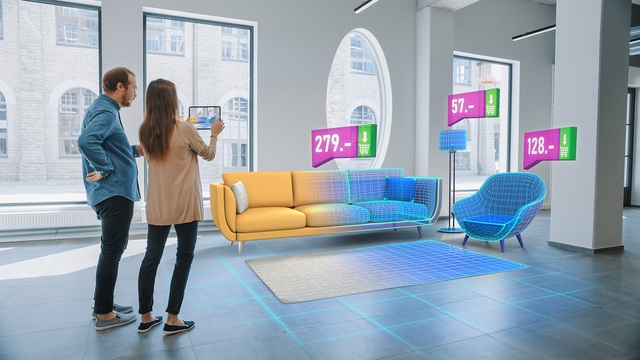 If you've used Snapchat's filters or tried to catch a pokemon in the Pokémon GO app, you've used Augmented Reality (AR) in some way.
Augmented reality has been around for a very long time. Some even argue that it came before social media, but it is only now becoming mainstream and will likely be an important feature of e-commerce in 2021 and in the more distant future.
A Statista study predicts that by 2023, AR technology will become an $18 billion industry. It also predicts that consumer spending on AR-enabled mobile apps will reach $15 million by 2022.
These are compelling numbers that are hard to ignore, especially when we see how it is being used in e-commerce. For example, Sony Electronics recently launched the Envision TV AR app as a way for customers to "try before you use it".
One of the major criticisms of e-commerce over the years is that customers don't get to "experience" products before they buy. However, AR will solve that problem.
Furniture e-commerce businesses have launched AR apps or in-app features that allow customers to view 3D models of products, check dimensions, review specifications techniques to see if they fit their space and make interior designs before deciding to buy the product.
This technology is still evolving in a way that makes an impact on e-commerce. 63% of shoppers say AR will change their shopping experience. Another 70% are predicted to be more loyal to brands that adopt AR in the customer shopping experience.
The growth of e-commerce is very exciting and its potential is huge. However, it calls for incredible agility from e-commerce businesses and brands.
Source: Synthesis