Agricultural products in isolated areas due to the complicated situation of COVID-19 that are in full bloom will be distributed on e-commerce platforms to help farmers release goods as well as deliver products to customers. hands of consumers during the period of implementing social distancing.
Accordingly, the Department of E-commerce and Digital Economy was assigned by the Minister of Industry and Trade to be the focal point to preside over and urgently deploy the Program to support Bac Giang people to consume Luc Ngan lychee specialties to consumers. people across the country through e-commerce in the context of complicated developments of the COVID-19 epidemic.
This is also the content of the industry and trade sector implementing Resolution No. 84/NQ-CP in 2020 of the Government on continuing to remove difficulties for production and business, promoting disbursement of public investment capital and ensuring order. social safety in the context of the COVID-19 pandemic.
Lychee fruit is one of the earliest agricultural products listed on the e-commerce platform.
The connection of agricultural product consumption on a digital platform is considered as one of the effective solutions, an extension of the arm next to the traditional method of distribution of goods. Since then, helping farmers expand their consumption markets across 63 provinces and cities, taking advantage of technology following the trend of the Fourth Industrial Revolution.
At the meeting between the Department of E-commerce and Digital Economy and the Department of Industry and Trade of Bac Giang province, the leader of the Department of Industry and Trade of Bac Giang province affirmed: The lychee growing area has been safely zoned from the beginning. no F1 object. Therefore, the provincial authorities have set up a quarantine checkpoint since the epidemic has not yet broken out, not allowing people to enter the lychee growing area when not on duty.
In addition, Bac Giang People's Committee also directs such roads as National Highway 37, National Highway 279. . . exclusively for trucks transporting Bac Giang lychee out of the province are granted "Certificate of safe shipment of lychee"; meet food hygiene and safety standards and meet sanitary and epidemiological requirements.
To deploy, the Department of E-commerce and Digital Economy has urgently coordinated with 6 major e-commerce platforms in Vietnam including: Sendo.vn, Voso.vn (Viettel Post), Tiki, Shopee, Postmart (Viettel Post). VNpost)… agreed to deploy e-commerce logistics and procurement plans and prepare communication and promotion activities to meet all lychee orders. At the same time, fast transportation by all forms from refrigerated trucks to air freight and well-preserved to bring the highest quality lychees to consumers.
Currently, e-commerce platforms are in the process of preparing goods, transporting and preserving products, and it is expected that in 3-4 days, e-commerce platforms will officially open sale of Bac Giang lychee. widely available to consumers nationwide.
In particular, the e-commerce platforms have a plan to coordinate with the Department of E-commerce and Digital Economy, Department of Agriculture and Rural Development, Bac Giang Department of Industry and Trade to ensure that delivery vehicles are well-ventilated and disinfected according to regulations. anti-epidemic requirements and food safety and hygiene.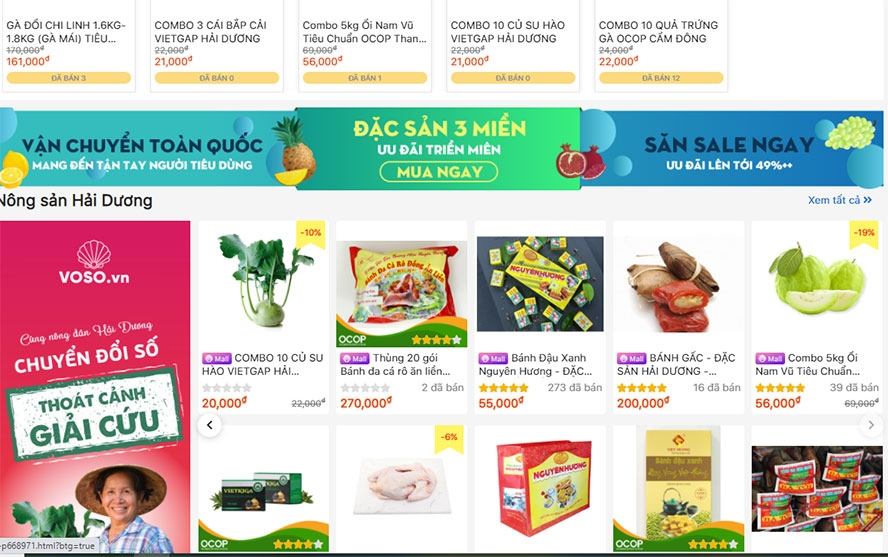 Besides, the rope will also be a sustainable sales channel for agricultural products.
On the other hand, the e-commerce platform Sendo.vn will directly guide farmers to practice livestream, self-posting lychees on Facebook, Tiktok, Senlive to close mass orders. This activity is part of the program in cooperation with the Bac Giang Youth Union.
Previously, the Department of E-commerce and Digital Economy coordinated with e-commerce platforms Sendo.vn and Voso.vn (Viettel Post) through the program "Online Vietnamese stall" to consume agricultural products and products. local products such as "Son La Specialty Day" (Sendo.vn), "Coconut Festival – Ben Tre Homeland" (Sendo.vn), promoting consumption of purple onions in Soc Trang (Voso.vn) or recently especially Thanh Ha, Hai Duong lychee consumption program. The above programs have brought positive effects with thousands of orders per day with coverage in over 60 provinces.
Mr. Nguyen Dac Viet Dung, Chairman of Sendo, shared that from the beginning of 2021, Sendo together with the Ministry of Industry and Trade have implemented programs to promote the consumption of agricultural products in Son La, Ben Tre and Hai Duong provinces. through e-commerce on Sendo.vn and achieved encouraging success. After each program, the unit further perfects the process to bring e-commerce to farmers across the country in the most effective way, helping them step by step actively connect output for products.
In addition, a representative of Voso e-commerce platform (Viettel Post) also confirmed that: Bringing Bac Giang lychee up to export standards with the delivery time to customers is only from 6 hours to 48 hours after harvest.
Moreover, Sea Shell has advantages and differences compared to other e-commerce platforms by inheriting Viettel Post's wide express delivery network across 63 provinces and cities with more than 1,800 post offices, 6,000 transaction points, and 25,000 points. sales and 18,000 direct sales staff.
Therefore, not only supporting Bac Giang people to put fabric on Shell's e-commerce platform, Viettel Post also sells goods offline. Therefore, the entire system of direct stores, points of sale, Post Offices and Hubs of Viettel Post nationwide in good locations all have booths to sell and introduce products.
According to the report of Bac Giang Provincial People's Committee, in the lychee crop year 2021, the whole province has 28,100 hectares of lychee cultivation, the output is estimated at 180,000 tons, an increase of 15,000 tons compared to the previous year. – July 20.
Commenting on the quality of lychee that met export standards this year, many litchi farmers said that thanks to the application of scientific and technical achievements, the quality of the design is superior to that of previous years, the fruit is large and round. succulent, not wormy, especially ensuring food hygiene and safety, grown and cared for in "disease-free lychees", not affected by COVID-19.
Source: dientungaynay.vn