Digital transformation is an inevitable trend in many socio-economic fields, including agriculture. For a purely agricultural province like Dak Lak, digital transformation is even more important to promote commodity production and open up opportunities for rapid development and integration with the international market. However, this journey is still arduous, requiring drastic intervention from authorities, scientists, businesses and farmers .
Working "old" in a "new" way
Implementing Resolution No. 04-NQ/TU dated April 2, 2021 of the Provincial Party Committee on digital transformation of Dak Lak province for the period of 2021 – 2025, with orientation to 2030, the Agriculture and Rural Development sector has actively applied Using digital technology, changing mindsets and management methods in each field, accelerating the roadmap to digitize sectoral data, and properly approaching the roadmap set by the Ministry of Agriculture and Rural Development, in order to support farmers and businesses to keep pace. with this trend.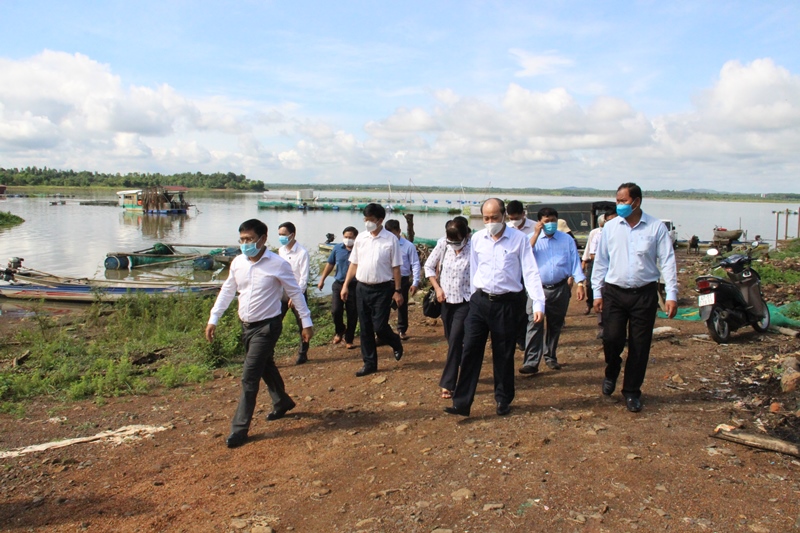 Chairman of the Provincial People's Committee Pham Ngoc Nghi visits a fish farming model on the Serepok River in Tan Hoa commune, Buon Don district
In Dak Lak, at present, digital technology has been playing an important role in agricultural and forestry production, changing production methods, liberating maximum labor, improving productivity and product quality. . Now, the agricultural industry has begun to prevent forest fires with remote sensing equipment; take care of plants and animals by camera; offering products through smartphones… From that trend, agricultural enterprises have boldly caught up with the application of digital technology in all production processes.
As a pioneer in digital transformation, Ms. Nguyen Thi Thai Thanh, Director of Ban Me Green Farm Co., Ltd. shared that the power of technology and digital has helped the agricultural industry keep pace with the international market. Currently, enterprises have actively sought application software to deploy in both production and consumption activities. In addition to the application of smart agricultural equipment systems in personnel management, tax, planting and care to create high quality products for crops, the unit has associated with many organizations and individuals. through social networks to sell Nova tomato products to farmers without having to meet the buyer face-to-face…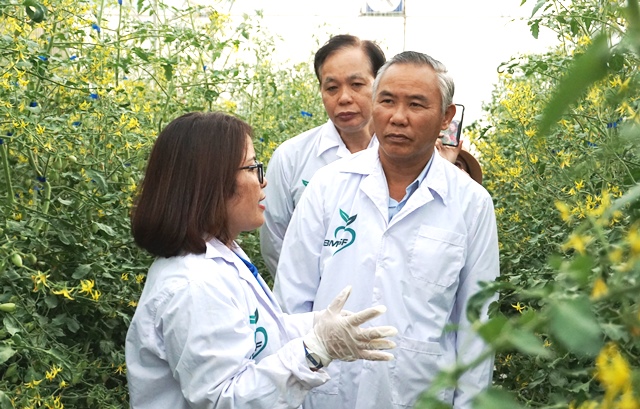 The organic vegetable model of Ban Me Green Farm Co., Ltd (Buon Ma Thuot City) applies digital technology in production and product consumption.
Recently, in order to improve the efficiency of forest management and protection, the Department of Agriculture and Rural Development has advised the development of a  project on applying high technology in the management, protection and monitoring of forest resources in Dak Lak province. period 2021-2023 . The project focuses on building and implementing a system of management, inspection and control of the current status of forests, warning of the risk of deforestation and forest fires; implement solutions to conserve and develop forest resources; setting up software to apply information technology in patrolling and monitoring forest fires and deforestation, changing the status of forests and forestry land using 4.0 technology; organize early detection and timely notification of forest fires through increasing the application of information technology equipment and software, images taken from unmanned aerial vehicles, and remote sensing images.
Deputy Minister of Agriculture and Rural Development Phung Duc Tien (third from left) visits the organic agricultural production model of Nhat Thong Agriculture Company Limited in Cu Bao commune (Buon Ho town)…-Photo : Le Lan
In order to contribute to improving the satisfaction of people and businesses, the Department has implemented the PAR Index scoring for 18 units under the Department, helping the units to make necessary adjustments in terms of objectives, content, solutions to reform administrative procedures and modernize public services provided every year. Statistics from the Department of Agriculture and Rural Development, so far 87 administrative procedures of the unit are provided with online public services at levels 3 and 4. The process of receiving and handling administrative procedures has been updated to the System. Online public administrative service integrated with the e-One-stop shop of Dak Lak province.
More than 77 billion VND to build 

 the foundation of  

 " 

 digital 

agriculture 

"
According to a report of the Department of Agriculture and Rural Development, technology application and digital transformation have been implemented in many fields. Typically, installing automatic rain gauges to warn and forecast natural disasters; payment for forest environmental services; monitoring aquatic environment… However, the application of digital technology in the agricultural sector is still not widespread, still small, and the level of farmers is not close to digital technology.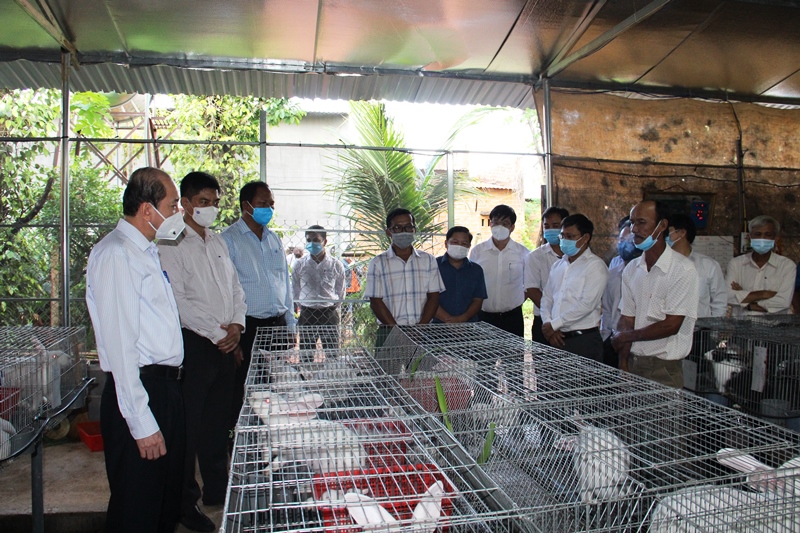 Standing Provincial Party Committee visits the rabbit farming model of Phu Nong Cooperative, Buon Don district
Determining smart agricultural development is inevitable, the  Department of Agriculture and Rural Development has issued Plan 1459/KH-SNN dated May 25, 2021 on the Digital Transformation Plan of the agricultural sector and agricultural development. villages in the 2021-2025 period, with a vision to 2030.  The entire Agriculture and Rural Development sector will start building a database, popularizing digital skills for businesses and cooperatives engaged in production and processing. agriculture and farmers on digital transformation.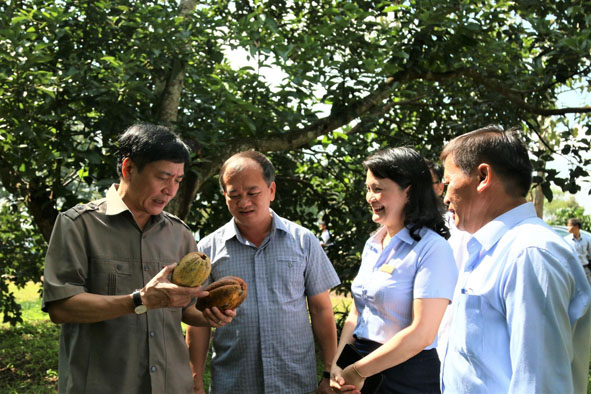 The Central Highlands Agro-Forestry Science and Technology Institute introduced macadamia nut products produced by the Institute of Breeding and Production.
Plan 1459/KH-SNN sets out the goal,  striving that by 2025 , the  whole Agriculture sector will develop about 15 enterprises, agricultural cooperatives, farm owners in the agricultural field to receive partial application transfer. digital technology (or all if any) in the production and consumption of agricultural products; Strive for the share of the digital economy in the agricultural sector to reach at least 10% and annual labor productivity to increase by an average of 7%.
Mr. Nguyen Hoai Duong – Director of the Department of Agriculture and Rural Development said ,  The digital transformation in agriculture and rural areas in our province is still very new, modest and spontaneous. mainly in the sales phase. Therefore, the whole industry has identified a total of 24 tasks that need to be implemented in the 2021-2025 period covering all fields: cultivation, husbandry, fisheries, forestry, irrigation, and quality management. agricultural, forestry and fishery products, Rural development, new rural areas, OCOP… and in the process of implementation will continue to research, supplement and perfect.
Resolution of the 17th Provincial Party Congress determined that agriculture occupies an important position in the economic structure, accounting for about 30% of GRDP. This is one of three important areas that need to be prioritized, accounting for about 90% of the province's total export turnover, creating jobs and income for about 65% of the province's employees. In the coming time, the agricultural industry needs to start from building a database and master the database, because only with transparency in data and information can agriculture reach far. Therefore, the Agriculture sector will continue and drastically implement the implementation in order to achieve the goals of the Plan, contributing to the effective and successful implementation of the province's digital transformation train as Resolution No. 04-NQ/TU proposed.- Mr. Nguyen Hoai Duong stated.
To determine the direction in line with reality, Director of the Department of Agriculture and Rural Development Nguyen Hoai Duong said that the target of digital transformation in agriculture and rural areas is the people. It means that people are both beneficiaries and subjects of digital transformation, but if farmers let farmers "swim" or "find their way" in digital transformation, it is very difficult to succeed, but needing a pedestal is an opportunity. regulations, policies, resources and the companionship of all levels, functional sectors, and the business community.
Digital transformation is a new process and is also full of difficulties and challenges, but "without going, you can't reach the destination". If actively implementing digital transformation early and quickly, they will seize opportunities and advantages to create new impulses for the province's agriculture and rural areas to develop effectively and sustainably. Therefore, businesses must be the leader in digital transformation to work with farmers to improve productivity and product quality, seek sustainable consumption markets, and avoid the situation of losing crops and losing crops. In recent times, Mr. Duong emphasized.
Currently, the Ministry of Agriculture and Rural Development has 113 types of databases and 32 specialized softwares for management, research, production and professional work in the fields of agriculture, irrigation, forestry. Agriculture, fisheries, etc. Provincial Department of Agriculture and Rural Development has connected with monitoring and evaluation database for industry management and Statistical database software.
Specifically, by 2025, the agricultural sector will have 100% online public services at level 4 provided on various means of access, including mobile devices; 95% of dossiers are handled by online public services at levels 3 and 4; 90% or more of work records at the provincial level are processed in the network environment; at least 95% of people and businesses are satisfied with the handling of administrative procedures by the Department of…
Source: daklak.gov.vn