Social distancing to prevent the Covid-19 epidemic makes people buy more goods on e-commerce platforms. However, the delivery of goods for e-commerce floors is also limited similar to technology shippers, causing the chain of circulation from the producer to the consumer to be interrupted.
Immediately after Hanoi and Ho Chi Minh City implemented social distancing to prevent Covid-19, the number of orders on e-commerce trading floors such as Tiki, Shopee, Lazada, and Postmart simultaneously increased.
Having trouble with delivery
A representative of Hanoi Post said that in recent days, the number of customers buying through the e-commerce floor Postmart.vn reached more than 1,000 orders per day, a growth rate of 70% compared to before the gap.
Similarly, at supermarkets such as Vinmart, Big C, Co-op mart, BRG … all recorded a sudden increase in online purchase orders of people, from 50 – 70% compared to the time when social distancing was not observed.
(illustration)
E-commerce floors reflected that, although orders increased sharply, it was difficult to deliver goods to buyers, when shipping applications such as NowFresh (shopping) and NowShip (delivering essential goods) had to stop working. Active after Hanoi city "tightens" the activities of delivery staff, technology shipper. Grab, Be, Gojek, My Go and FastGo also have to stop providing motorcycle freight services during the lockdown.
In addition, many delivery points located in the blockade area also make e-commerce floors lack of delivery points. Representatives of the e-commerce floor Sendo and Voso reflected that supply and transport units had difficulties in the transportation process, when some warehouses were located in areas with restricted travel due to social distancing, so they could not gather. , the flow of goods leads to a temporary supply shortage.
Difficulty in transportation
Facing the above situation, the Vietnam E-commerce Association (VECOM) has submitted a petition to the Prime Minister to find solutions to overcome difficulties. Vice President of VECOM Nguyen Ngoc Dung said that the e-commerce floor is an intermediary to support buyers and sellers, each floor can have tens of thousands of sellers and buyers. With such diversity, the percentage of buyers and sellers located in the same district is not high. Moreover, each delivery person can have many customers in different locations; Sometimes 2 locations in 2 adjacent districts are closer than 2 locations in the same district.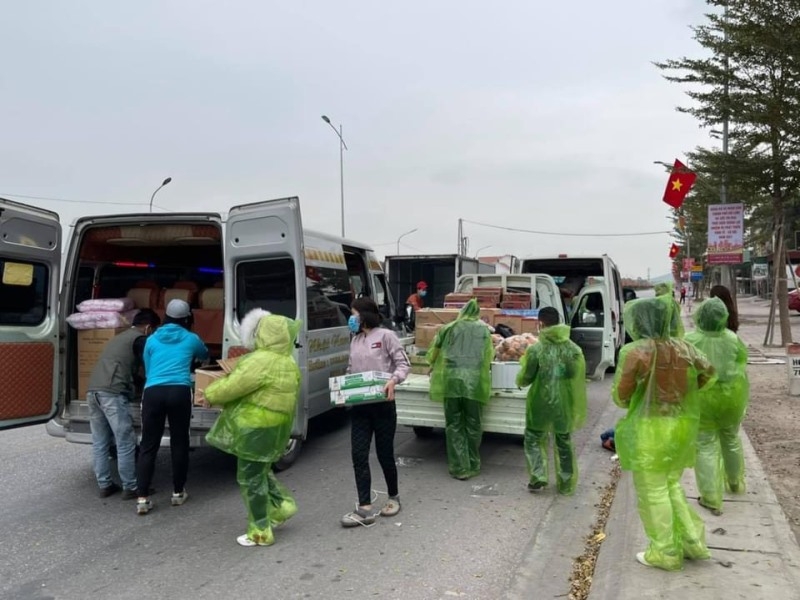 To effectively combat the epidemic, it is necessary to well manage the transportation and delivery of goods. Illustration
From that fact, VECOM proposes to the Prime Minister to assign the People's Committees of localities, especially Ho Chi Minh City and Hanoi, based on the actual situation to support shippers to optimize operations, thereby It also helps e-commerce floors to better serve people during the period of social distancing.
Agreeing with the recommendation of VECOM, Director of the Department of E-commerce and Digital Economy (Ministry of Industry and Trade) Dang Hoang Hai said that the Ministry of Industry and Trade supports the plan of localities to allow the logistics system of e-commerce floors to continue to operate. continue to operate normally in their respective territories.
The shipper of the e-commerce floor will be registered directly with the Department of Transport. For e-commerce platforms with shipping partners such as Fast Delivery, Economical Delivery, J&T Express, AhaMove…, they must work with a forwarder, register a list with the Department of Transport.
Before the recommendations of e-commerce floors, VECOM, Acting Director of Hanoi Department of Industry and Trade Tran Thi Phuong Lan said, in order to remove difficulties for e-commerce floors, the Hanoi Department of Industry and Trade is currently reviewing vacant land, stadiums, etc. operation, bus stations (under operation), markets are not operating at full capacity … in localities at the gateway to the capital as a transshipment place for goods for the e-commerce floor.
In addition, Hanoi City has issued documents to direct, develop a plan to mobilize and mobilize vehicles to serve the transport of goods, in a timely manner to direct the functional forces to remove difficulties. for businesses in transportation and circulation.
As of August 3, Hanoi Department of Transport has issued QR code to register "green channel" for 1,443 cars (in the field of industry and trade); issue verification codes for 4,351 two-wheeled motorcycles serving delivery and transportation for e-commerce businesses.
Source: dientungaynay.vn