When businesses changed models to adapt to the COVID-19 epidemic situation, it suddenly opened up opportunities for Vietnamese industries to access not only the domestic market but also the whole world market. can create a good momentum for domestic production to participate in the global supply chain.
While Vietnamese businesses are facing many difficulties in exporting goods to the world due to the COVID-19 pandemic, cross-border e-commerce is considered a The "salvation" helps businesses turn the situation around, and also opens up many opportunities to join the global supply chain if they know how to seize the opportunity.
From a variety of market approaches…
According to data provided by Amazon Global Selling Vietnam, there are now thousands of Vietnamese businesses put through this e-commerce channel with revenue in 2020 surpassing 1 million USD, up 3 times compared to 2019.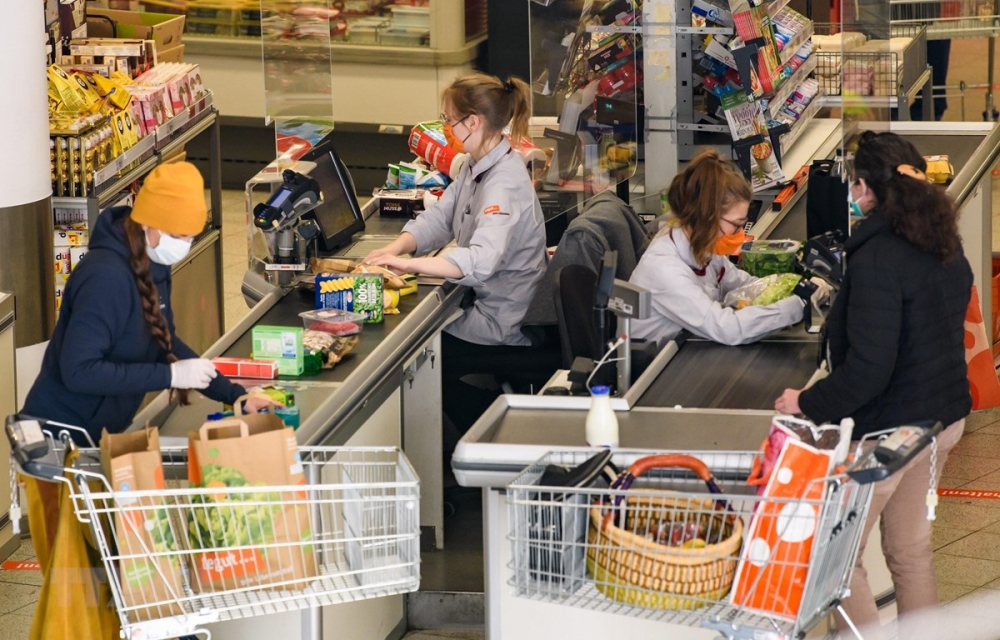 The demand for goods by users in the period of implementing social distancing is very large.
However, for businesses to increase the number of orders and revenue on cross-border e-commerce platforms is not easy, but also encounters many difficulties.
That's how to develop your brand, improve recognition with foreign buyers, and at the same time reduce delivery costs because products sold online are often not of great value.
Mr. Gijae Seong – Country Director of Amazon Global Selling Vietnam said that businesses need to accelerate digital transformation, towards sustainable development and diversify sales channels. Besides, it is necessary to adapt to changes from customer needs, optimize products and services based on evaluation. Finally, expanding the cross-border sales channel, bringing Vietnamese goods to the world.
Sharing the same view, Deputy Director of the Department of E-commerce and Digital Economy Lai Viet Anh said that the COVID-19 epidemic put pressure on changes, opening new directions for businesses, including small businesses. One of those opportunities is for businesses to apply digital technology, transform their business model into an online environment, to connect directly with consumers.
Effectively taking advantage of the online export method not only requires policies, but also needs to support the platforms of large e-commerce platforms with a wide range of activities in the world, thereby letting businesses know what are the opportunities, Challenges await them.
According to a representative of the Project on Promoting Reform and Improving the Connectivity of Small and Medium Enterprises (USAID LinkSME), the world is changing rapidly, so it poses a challenge for suppliers in terms of increasing competitive pressure. intense.
Customers have many choices, so they require businesses to constantly improve the quality of products, packaging, packaging and services to meet the standards that the world market and users need.
To support businesses in promoting direct exports through cross-border e-commerce channels, Ms. Tran Thi Phuong Lan, Acting Director of Hanoi Department of Industry and Trade, said that Hanoi will organize a a separate promotion of Hanoi's handicrafts and craft villages into the Amazon cross-border e-commerce channel.
The Hanoi Department of Industry and Trade hopes that through the support sessions such as organizing seminars and training courses, small and medium enterprises will understand and grasp the processes, procedures and regulations.
At the same time, be advised to regularly refresh their products on the system. From there, it is possible to attract the attention and positive feedback of consumers in the world market.
… to the B2C . model
Ms. Lai Viet Anh, Deputy Director of the Department of E-Commerce and Digital Economy (IDEA), said that Vietnam is located in the Asia Pacific region and is a country with a rapid development of cross-border e-commerce. fastest in the world.
With global B2C (direct-to-consumer) e-commerce revenue expected to reach $2.883 billion in 2023, cross-border e-commerce will be an extremely effective channel for businesses to expand. .
Applying the model from production to consumption will help Vietnamese businesses easily access the world market.
However, in order for Vietnamese goods to connect effectively with the global market, in addition to solutions from management agencies, the key is that businesses must really step in and adapt to the trend.
In 2020, cross-border e-commerce has become an effective way for Vietnamese businesses to open their way into the global supply chain, minimizing the risk that the traditional supply chain is being disrupted or stalled due to affected by the COVID-19 pandemic.
Mr. Tran Quoc Toan, Director of Co Do Co., Ltd – an enterprise with handicrafts exported to the market of 50 countries and territories shared: "Hopefully through the Amazon e-commerce platform, Businesses can reach consumers directly. The COVID-19 pandemic has greatly affected direct trade activities. We hope that when bringing handicraft products to Amazon channel, it will reach more customers, products directly reach the end consumers."
Sharing the same view, Director of Vinescraft Co., Ltd (Bac Tu Liem district, Hanoi city) Tran Duc Chung shared, in the past, the export method of enterprises was mainly to approach importers, or distribution centers, individuals, stores. Five years ago, businesses embarked on bringing goods to Amazon e-commerce channel. At this time, information about this distribution channel in Vietnam market is not much.
After 2 years of learning about American consumer tastes as well as learning how to sell on the Amazon e-commerce platform. With tinkering and development, up to this point, every day Vinescraft has about 300 – 500 orders. On Amazon, orders worth $50 back are easy to sell. Currently, business orders are priced from 19-40 USD/unit.
Sharing experiences from his own business, Mr. Tran Duc Chung said that any platform has advantages and limitations. The most important thing for businesses is to find the right fit between the business and the cross-border e-commerce platform that they will join, thereby boosting the business's sales.
Besides, in order to be able to export products through cross-border e-commerce channels, it is necessary to adapt to changes in customer needs and policies of the exchange. Only then can a new business succeed.
In addition, when participating in an e-commerce platform, businesses need to learn the regulations and ways to export according to Amazon's standards, shipping methods, procedures for opening booths, delivery time … All these factors affect the price of the product.
E-commerce is also very product and seasonal dependent. For example, if a product is sold at Christmas or at the end of the year, the number of orders will increase sharply, but at the beginning of the year, the order will decrease.
If you do business in fashion, from March to September is the peak tourist season, so sales growth will be very fast, but at the end of the tourist season, it will decrease.
The COVID-19 epidemic has caused many obstacles to the export of Vietnamese goods to the international market. Faced with that challenge, exporting online through a global e-commerce platform like Amazon is not only a temporary solution, but also opens up many opportunities for businesses to join the global supply chain.
Source: dientungaynay.vn