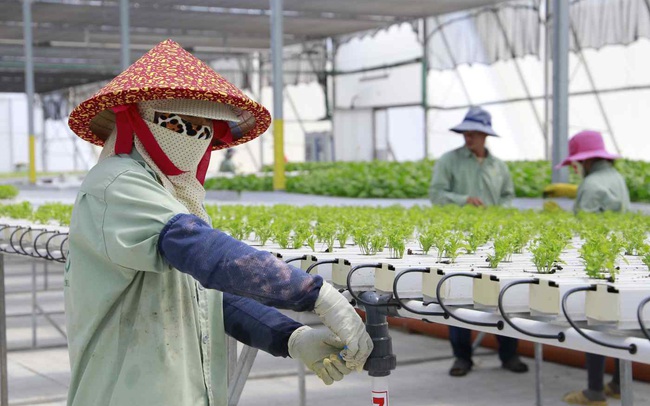 Israel has become a world leader in agricultural water management, even though two-thirds of the country's land is semi-arid or nutrient-poor. Thus, Israel's experience in agriculture will be the solution for some countries in the region looking to improve the quality of farming.
According to Nikkei Asia, Israeli agricultural technology companies are seeking investment opportunities in Southeast Asia through bilateral agricultural programs.
Typically, the Labor Cooperation Agreement between Vietnam and Israel will be signed this year. Under the agreement, Vietnamese workers will be allowed to go to Israel to learn experience in the country's agricultural sector. In addition, Israel has sponsored Vinh Phuc farmers with a greenhouse system, and people have successfully grown a number of crops using hydroponic techniques.
"What Israel is providing is mainly technology, like drip irrigation, which uses water more efficiently, is less dependent on energy," said Israeli Ambassador to Singapore Sagi Karni.
According to the Tony Blair Non-Profit Foundation, in 2019, Israel became the world leader in agricultural water management methods, even though two-thirds of the country's land is semi-arid. or poor soil.
As a result, Israel can produce 300 tons of tomatoes per hectare, much higher than the worldwide average of just 50 tons. The country is also a leader in the post-harvest treatment of crops, with a grain loss rate of only 0.5%. Meanwhile, this rate in the world accounts for 20%.
With more than 100 million hectares of farmland, Southeast Asia is a major producer, supplier and exporter of crops and grains, especially rice, according to the ASEAN and East Asian Economic Research Institute.
However, countries in this region are grappling with food security threats posed by climate change as well as food supply chain disruptions due to the Covid-19 pandemic. Therefore, Israel's experience in agriculture will be the solution for some countries in the region looking to improve the quality of farming.
According to research firm Oxford Economics, in 2019, the agri-food sector contributed $717 billion to the economies of Indonesia, Thailand, the Philippines and Vietnam, up 30% from 2015. provides 127 million jobs across the region, representing the entire workforce in these countries for 48 percent.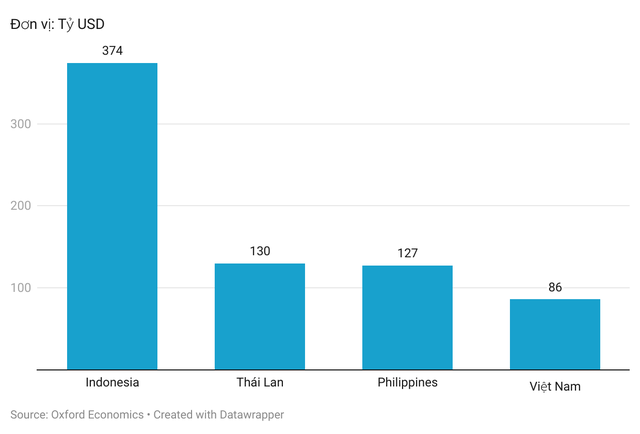 Agricultural value has contributed to GDP in some countries in 2019. Unit: Billion USD. Source: Oxford Economics
"If Southeast Asia is to emerge strong from the pandemic, it is important for policymakers to set the conditions," said James Lambert, Asia director of economic consulting at Oxford Economics. the most favorable conditions for the agri-food industry to successfully rebuild".
In particular, there is a need for environmentally sustainable, water-saving technologies, such as micro-irrigation, to comprehensively address global food and water security challenges, giving farmers access to reasonable solution.
By sharing its experience, Israel's presence in the agri-food sector in Southeast Asia will grow, even in non-agricultural economies like Singapore, which has set a production target. 30% of nutritional needs by 2030. However, the cost of technology adoption presents a significant challenge in Southeast Asia where the majority of farmers still rely heavily on cheap labor in agriculture .
Regarding the transfer of Israeli farming methods to Southeast Asia, Ambassador Karni said: "There is a problem that is finding an economic solution. Obviously, if some countries cannot afford expensive technology, they will have to look at different technologies or other more suitable solutions instead."
Therefore, Israeli agritech companies such as Netafim hope to provide farmers with maximum cost-effective solutions and treat this as part of the company's mission.
Netafim CEO Gabriel Miodowni shared: "We have been working with farmers, a few large cooperatives and private investors across Cambodia, the Philippines, Indonesia and Vietnam to supply them. solutions to modernize the farm system. As a result, it is possible to help people in these areas improve productivity while reducing operating costs."
He said that about 60% of the land area has benefited from drip irrigation or mini-spray irrigation systems provided by Israeli companies, which maintain stable production regardless of climate change and rainfall patterns. Drip irrigation technology helps increase yield from 20% to 30%, while improving and stabilizing the quality and size of crop yields.
"ASEAN is considered one of the most productive agricultural regions in the world. Therefore, the implementation of agricultural technology solutions such as drip irrigation system will promote the development of this area," commented Mr. Miodowni.
Source: cafef.vn