Businesses that have accelerated digital transformation in the context of the Covid-19 epidemic, but often only focus on meeting and working online, still face certain difficulties.
The webinar "Digital transformation – from policy to practical solutions for small and medium enterprises" was jointly organized by the Vietnam Chamber of Commerce and Industry (VCCI) and Hewlett Packard Enterprise (HPE) Vietnam, a company Tech shares Elite and Aruba jointly organized. The seminar took place with the participation of about 300 businesses.
Hoang Quang Phong, Vice President of the Vietnam Chamber of Commerce and Industry (VCCI) emphasized the importance of digital transformation for small and medium-sized enterprises in Vietnam, especially in the context of globalization. The Covid-19 pandemic is still developing very complicatedly today.
The report "Impact of the Covid-19 epidemic on Vietnamese businesses" conducted by VCCI in collaboration with the World Bank (WB), through a survey of more than 10,000 businesses, showed that nearly 90% of enterprises in Most industries and professions are negatively affected by Covid-19. In particular, only in the first 4 months of 2021, there were 25,919 small and medium-sized enterprises (SMEs) (capital scale from 0 to 10 billion VND) accounting for more than 90% of businesses that were temporarily closed or stopped operating.
The Covid-19 epidemic has made it difficult for businesses, especially SMEs, to approach customers; supply chain is interrupted or broken; cash flow imbalance; difficulties in labor management… Some businesses are also affected by other problems such as reducing orders, reducing output, delaying, delaying investment progress even canceling projects that are or will be implemented, Not to mention the additional cost of disease prevention.
In the face of reality, Mr. Hoang Quang Phong also pointed out that in order to adapt to the new context and overcome difficulties because of the epidemic, SMEs need to accelerate the process of digitization in enterprises, especially in training human resources. Digital workforce meets transformation requirements.
Speaking at the conference, Dr. Pham Anh Tuan, Deputy Director of the Institute of Digital Transformation and Innovation, said that it is important in digital transformation that all business members must agree on the understanding of digital transformation and the vision of digital transformation in the future. enterprise.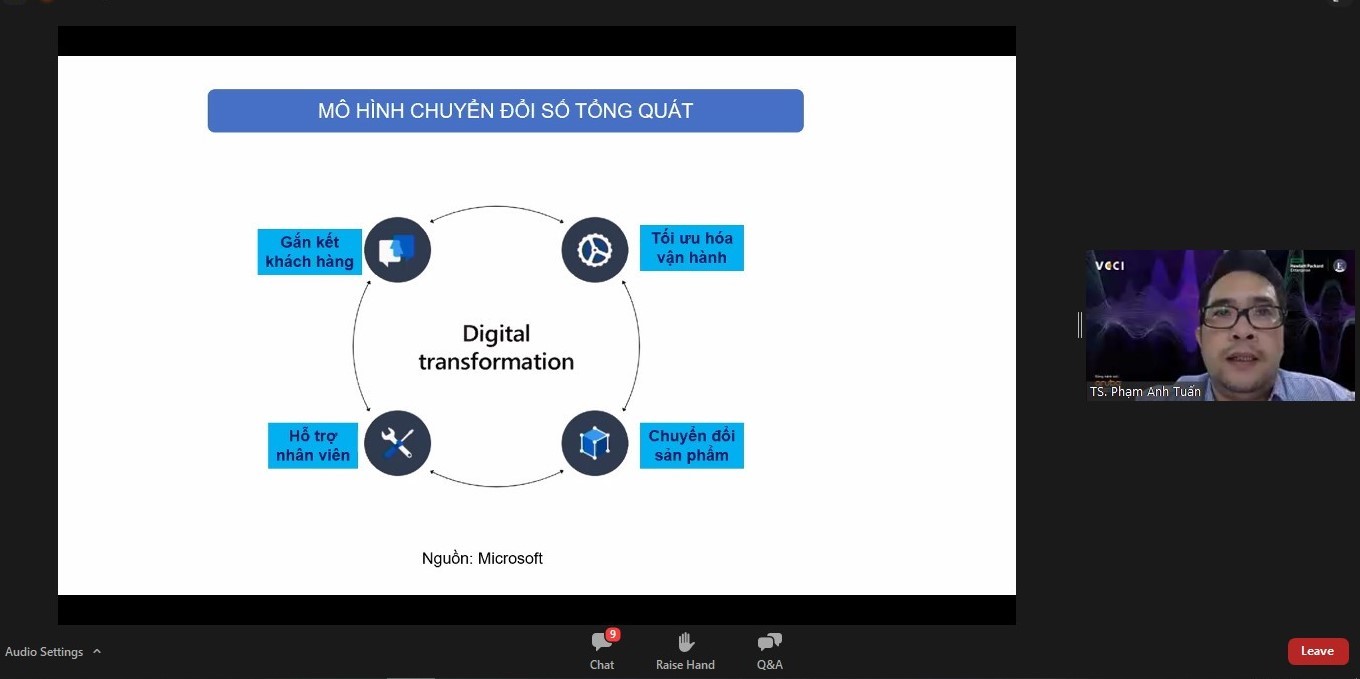 Despite clearly recognizing the importance of digital transformation, SMEs are still facing difficulties in the implementation process.
According to a survey on the situation of digital transformation in businesses in the context of Covid-19 by VCCI, the number of businesses compared to the time before Covid-19 that applied digital transformation tools increased by 60.6%, in which focus into solutions for working online, meeting online, marketing online. However, SMEs are facing barriers in the digital transformation process such as lack of digital skills and human resources (17%), lack of strong IT platform (60.7%), lack of technical thinking number (>70).
Referring to the digital transformation framework, Mr. Pham Anh Tuan recommended: "The implementation of digital transformation without a base framework will lead to a situation where businesses are still operating but their resources are not effectively exploited. and lack of cohesion, performance, shared values ​​in the enterprise".
Small and medium businesses need a lean, flexible argument transfer framework based on a common argument transfer framework. The transformation roadmap will correspond to different needs and sizes of organizations, the outputs of the digital transformation process at enterprises.
On the side of technology businesses, Mr. Ton Anh Dung, Product Manager, Elite Technology Joint Stock Company, said that, in the context of the Covid-19 epidemic, digital transformation will be associated with establishing and maintaining the new normal in which it is imperative to convert many elements from the physical environment to the online environment.
In addition, according to Mr. Dung, the choice of practical solutions or technology models to apply digital transformation in small and medium-sized enterprises needs to be based on factors such as cost, deployment ability, complexity, and cost. complexity, efficiency, and security. Accordingly, digital transformation models for businesses can be used for 50-200 users, packages with a cost of 50-200 million dong…
According to Ms. Duong Hanh Phuc, Marketing Director, HPE Vietnam, SMEs can accelerate digital transformation and at the same time ensure smooth operations, recover production and business faster during and after the pandemic. During the Covid-19 pandemic, data is absolutely secure, at a moderate investment cost through optimization of IT infrastructure.
In addition, Ms. Phuc introduced the integrated portfolio of products and consulting services of HPE and Aruba, to support small and medium enterprises in the digitalization race.
Source: nguoiduatin.vn